Submit to Conference Proceedings (CPCI)
After a careful reviewing process, all accepted papers after proper registration and presentation, papers will be published on 《Advances in Social Science, Education and Humanities Research》(Online ISSN: 2352-5398), which will be submitted to CPCI, CNKI, Wanfang Data and Google Scholar.
Submit to Online Journal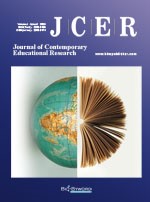 Journal of Contemporary Educational Research (JCER) Online ISSN: 2208-8474
It is a peer-reviewed, open access international journal. It is committed to promoting the development of research on educational evaluation, integration, theory and methods; Promote the formation of a more innovation and broad audience perspective on contemporary education; Improve the level of humanities research through domestic and international cooperation; And realize the combination of scientific knowledge research results and unconventional methods.
Journal of Contemporary Educational Research (JCER) has been supported and responded by education experts and scholars from all over the world. More than 100 scholars from China, the United States, Australia, Russia, India, Malaysia, Italy, Brazil and other countries have joined its editorial board. Some of the editorial board members have a H index of 10-30, which has a good reputation in the industry.
Contact number: +86-13502444340 (Jules Feng)
Note: All submitted articles should report original, previously unpublished research results, experimental or theoretical. Articles submitted to the conference should meet these criteria and must not be under consideration for publication elsewhere. We firmly believe that ethical conduct is the most essential virtual of any academic. Hence any act of plagiarism is a totally unacceptable academic misconduct and cannot be tolerated.